Thread Ini Juga Bisa Di Buat Untuk Yang Mau Sharing Hasil "Calibre" Nya Di Sini...
Atau Yang Mau Request iBook Dalam Format ePub...!
Terserah mau dalam Bhs.Indonesia Atau Inggris yach....
Cuma niat bantu Om Momod Biar Semua THREAD jadi lebih Anggun and Rapi Aja..hehehe..!

Apalagi Kalau Di "STICKY" ..! Sama Momod Kita

"AMPUN DJ...!"



AKHIRNYA DI "STICKY" Sama Om Momod Yg Baik Hati Di Dorong Dikit Sama Om bugeMac..! Thank You
Thank's
TUJUAN UTAMA THREAD INI ADALAH :

IKUT MEMBANTU MENCERDASKAN BANGSA..!

"MERDEKA"
_____________________________________
iBooks uses an eBook format called
ePub
. Using a free converter application (and ebook manager) called
calibre
you can quickly convert PDF (and other file formats) to .epub files, which you can then transfer to your iPad for reading in iBooks. This tutorial will take you step by step through the entire process.
1.
Start out by finding a PDF you want to convert. In this example I used The Adventures of Tom Sawyer (which btw is free in the iTunes Book Store – but it's a PDF I had handy, so that's why I'm using it).
2.
Download and install calibre
. It comes in versions for
Windows, OS X and Linux
. The interface is very slightly different in each version (not much). The screenshots in this tutorial are from the OS X version
– but Windows users should have no problem at all following along.
3.
Once installed, open calibre. The first time you run calibre it will take you through a quick setup. The first thing you'll want to do is specify your 'ebooks' folder. This is the location you'll save your .epub files. Click the Change button.
4.
Select the folder you want to save all of your ePub files in.
5.
Back at the Welcome screen, click the Continue button.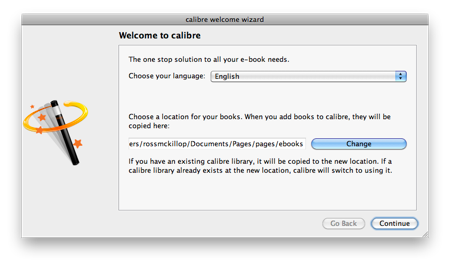 6.
Select
Apple
from the Manufacturers list, and
iPhone/iTouch + Stanza
from the Devices list. Click
Continue.
7.
You can ignore the information on this screen and click Continue. Or if you're interested, give it a read. With that said, enabling Turn on the content server will not help us out.